Whoa! Who would have thought there would be such a split in the gun rights advocate groups?
What's interesting is that this debate between the NRA and Open Carry Texas dramatically could alter the Second Amendment debate in the nation. In the past, folks on the other side of the argument have branded the NRA as extremist and unreasonable in their ideas about gun ownership and carrying. Ironically, the NRA is cast as the more moderate faction in this dispute.
Just another couple of interesting notes regarding the picture in this story: If these people are carrying weapons and talking about protection, it certainly isn't smart to have your weapons slung across your back and your back turned buying coffee. We know of bangers who haver robbed armed gun store owners in broad daylight in Indiana. We also know there are some who would have set up serious ambushes to get their hands on weapons like that. And, desperate people are not deterred by tough talk or the thought of death. In fact, many relish a dangerous challenge.
And, along those lines, this picture looks like it was taking in Afghanistan or Ukraine. But, then there are those people who think they would enjoy living in a war zone. It's tantamount to a game, unless you live in a real war zone like Chicago where your children can't walk down the street without worrying about stray bullets.
NRA says Open Carry Texas demonstrations 'downright scary'
FoxNews.com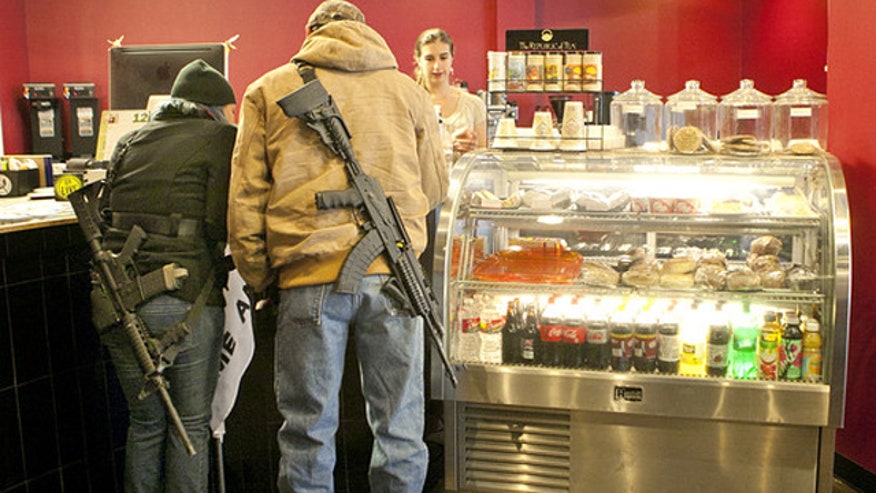 Stephanie McDonald and James Franklin buy coffee while participating in an open carry demonstration in Texas AP.
The National Rifle Association has issued a strongly-worded criticism of a fellow gun rights group, calling its practice of so-called "open carry" demonstrations "downright scary.
"The criticisms of Open Carry Texas were noted in an unsigned post published Friday on the NRA's Institute for Legislative Action page. Open Carry Texas members have become known for gathering in public places, mostly notably restaurants, carrying large, high-powered rifles.
via NRA says Open Carry Texas demonstrations 'downright scary' | Fox News.
Category: Crime & Safety, National
Frost Illustrated is Fort Wayne's oldest weekly newspaper. Your Independent Voice in the Community, featuring news & views of African Americans since 1968.